Collaborate 19 San Antonio – Remember the Conference!
The Oracle user group conference, Collaborate 19, was in San Antonio this year.  This was a much welcome change of venue and scenery after being in Las Vegas for the last four years.  It always amazes me how quickly and busy this conference is, turning an almost week long event into what feels like a few hours.  This year marked my fifth Collaborate that I attended in a row and an unforgettable one that it was!
Sunday – Arrival
I took the earliest flight out of O'Hare so that I could arrive in time to register and then attend the OAUG build a bike.  On the flight, I ended up sitting next to someone that we had a bunch of people in common with including my current boss.  Small world!
Once I checked into the hotel I was off to the convention center.  This was the second year that OAUG facilitated the build a bike.  After a brief break the ice, we started on the bike building.  We struggled initially building the first bike and then got the hang of it resulting in two complete bikes.
As a group there was some 20+ bikes built which were going to be used by adults at Haven for Hope in San Antonio.  This was a perfect opportunity to spend some time giving back to the community while meeting new conference attendees.  A really fun event and I look forward to doing it in the future.
After build a bike, I attended one of the last sessions of the day on the Oracle E-Business Suite road map.  I did miss the big OAUG announcement meeting.  The announcement was that the Oracle Applications Users Group would now be known as the Oracle Applications Technology User Group (OATUG).  More details on the change can be found here.  I was really impressed with how quickly and smoothly the transition (web site, email address, social media sites, etc) to OATUG were made.
Welcome Reception
I met up with Opal Alapat and Shawn McElhinney at the IOUG welcome reception.  We were all reacquainted with some conference friends over a variety of food and drink.  On this particular evening I was awarded with the Outstanding Regional Leader Group award, something that I'm still in disbelief over.  I'll have a separate blog post on my first five years of running the Chicago Oracle Users Group coming soon.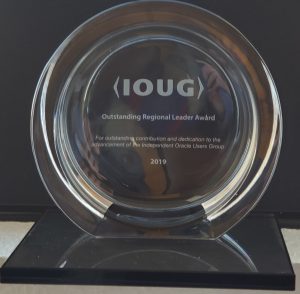 The winners of the 2019 IOUG awards were:
Outstanding Regional User Group Leader Award – Alfredo Abate
SELECT Journal Editor's Choice Award – Simon Pane
Chris Wooldridge Award – Kirby McCord
Ken Jacobs Award – Steve Lemme (not in picture)
At this meeting IOUG recapped how they would be joining the Quest Community.  I feel this is a smart move for both groups and will really help foster growth as well as combine complementary synergies to all the Oracle users group communities involved.  More information about the transition can be found here.
This evening was not long for me as I was tired and had to work on my presentation so back to my hotel I went.  I had been up since 4:00 AM so I was not awake for much longer.
Monday – Ready to be RAD?
Monday morning I had an early breakfast and worked on my presentation that I was giving later that day for IOUG.  Opal, Shawn and I met up for lunch before the next sessions started.  Shawn and I ran over to the Alamo so I can get a quick glimpse of it. Remember the Alamo!
Next, I head back over to the convention center to review my presentation once more.  This year I was presenting for the IOUG forum for the first time.  My presentation was on the totally free Oracle RAD stack (ORDS, APEX, DB).  About a dozen people showed up for this session and it was very engaging.
After my session was over, my nerves were finally calmed down as I was really stressing over this presentation, being that it was the first time I was giving it.  I attended the last session of the day and then headed over to the exhibitor hall.  I stopped at a few vendor booths that had some products that might have some potential use for us.  Shawn and I ran into Courtney Llamas at the Oracle booth so we spoke with her for a bit about Oracle Enterprise Manager.
Shortly after I was off to the Oracle ACE dinner which was being held at the Iron Cactus Grill.  Jen Nicholson, from the Oracle ACE program, always does a fantastic job of getting everyone together at these events and this one was no exception.
I shared a table with Michelle Malcher, Debra Lilley, Opal Alapat, Dayalan Punniyamoorthy, Erik Benner and James Lui where we all had fun time conversing and trying all the delicious dishes.
After dinner, it was back to my hotel room to get some sleep.  I was pretty tired still from an early start and a very long day.
Tuesday – Hump Day
Tuesday morning I started off the day by going to the Oracle RAC Special Interest Group (SIG) meeting. I'm the new President of the Oracle RAC SIG and we recently put together a new board for the RAC SIG.  One of our first tasks was to kick off a revival of the group with a SIG meeting at a large conference like Collaborate 19.
We had the support of the Oracle Product Managers, Markus Michalewicz and Anil Nair at the meeting with about 8 users showing up.  A big thanks to Alexis and Deja from IOUG for getting us the room and on the Collaborate schedule!
After the RAC SIG meeting we went to the convention hall lunch.  Next, I had signed up for the one of the free testing sessions from 1:00 pm – 3:00 pm.  I decided to take the Oracle Database Administration I exam.
Well I'm not going to sugar coat this but I failed miserably.  I didn't study.  Not one bit.  I was excited when this opportunity was announced and immediately signed up for it.  Unfortunately, the announcement came about a month before the conference.  I was more focused on my presentations and white paper in those weeks leading up to my sessions than studying.  Lesson learned on my part.
Later in the evening I had dinner plans with my CIO, Tom Sheppard, and the folks from eAlliance. We partnered with eAlliance last year for the robotic process automation (RPA) and live chat projects that we completed in 2018.
Dinner was at Ruth's Chris Steak House and so good!  I met a few folks from Oracle and also some future eAlliance clients that wanted to hear about our experience with the RPA.  It was a pleasure to describe to them how our business users went from apprehension to exhilaration when it came to RPAs.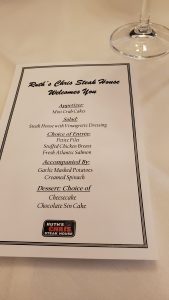 After dinner, I had RSVP'd to see the Conference Room Pilots at the Aztec Theater.  I met up with Opal and Kevin Whalen, who were already there.  Every year the Conference Room Pilots, made up of members from the company CSS, perform at Collaborate.  It has become a conference tradition!
Fortunately they didn't start until about 15 minutes after I arrived but once they did, they got the house rocking!  I didn't make the entire set as I was still catching up on sleep and I wanted to make Wednesday as productive as possible, so I left around 11:00 PM.
Wednesday – Sessions and Fiesta Party
On Wednesday, my morning was double booked with several user group sessions.  First, I attended one with IOUG and Quest Oracle Community in regards to special interest groups (RAC SIG for me).  It was satisfying to meet the folks from Quest and get their commitment on helping SIGs as well as the regional user groups and the various resources available to us.
Next, we had a OATUG content generation committee meeting.  This was such a pleasure as we finally got to meet everyone in person having only spoken on conference calls since the committee started last summer.  We are making great progress on finding folks to help generate meaningful content for the OATUG members.
After, I met Shawn for lunch again in the convention hall and then it was off to sessions in the afternoon.  As always, it's so difficult to choose between so many good sessions!  One that really piqued my interest, that Tom and I both attended, was Worlds Collide! APEX and Digital Assistants Revolutionize Your ERP Applications Mia Urman and Francis Mignault.  The reason being is we use both Oracle Digital Assistant and APEX independently but have not thought of combining the two.
Fiesta!
We finished off the day with the Attendee Appreciation Party.  Tom and I walked over from the hotel.  We hit the first food line we saw and I must say the food was excellent!
The party was awesome!  We enjoyed some traditional Mexican music and dancers, some burros carrying beer, mechanical bulls, and some pretty good music by the DJ.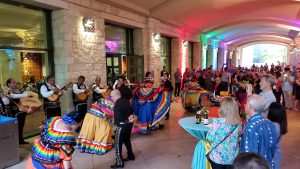 After the Appreciation party some of us headed over to Howl at the Moon which was on the river walk.  What a beautiful night to be walking on the river walk.  Once we got there we had a fun time watching the professional musicians switch from piano, guitar, bass, drums, and vocals.  I even ran into Captain Jack Sparrow!  🙂
Around 12:30 AM I decided I better get back to the hotel to get some sleep as I had a 8:00 AM presentation!
Thursday – Departure
On Thursday, I woke up at 6:00 AM and went over my slides once more then headed to my 8:00 AM session.  This was on Oracle E-Business Suite 12.2 patching.  I was certain that no one was going to show up this early on the last day, but pleasantly surprised with a room of about 15 people.  This was a very engaging session and we went the entire 60 minutes.  I was very pleased with how it went.
After my session, I attended James Morrow's, Anatomy of an Upgrade to 12.2.8 (Including Platform Migration) which was very well done.  My last session of the day was Jim Czuprynski's An Airline Pilot, A Urologist, and a DBA Walk Into a Bar: Thinking Like a Professional.  I think this was Jim's best presentation to date.  He had a large packed room and had us in stitches for the duration of the presentation.
That was it for conference sessions.  My flight home was not until almost 6:00 PM and I had already received notification that it was going to be delayed. Opal, Shawn, and I had decided to meet for lunch since we all had similar flight times. Shawn caught up with an old friend so Opal and I decided on a Mexican restaurant on the river walk.  We had a great time discussing our week at the conference and getting the inside scope on the upcoming ODTUG KScope 19 conference in Seattle.  This year I will be attending this conference for the first time!
Opal and I headed to the airport all the while I continued to get text messages that my flight was being delayed.  In the TSA security screening, I was stopped because my IOUG award came up as suspicious on the x-ray machine.  Apparently the award blocked the x-rays and it appeared as a black shadow on the monitor.  My flight was only delayed about 40 minutes and total flight time was about 2 hours with the help of a good tailwind.  It was good to be back home.  🙂
Summary
As always a great job by all three user groups, IOUG, OATUG, and Quest for putting together another great conference!
With this being my fifth Collaborate, I will say it was my favorite to date.  It might be the amount of involvement I had with the conference this year with both IOUG and OATUG, the sessions I attended, spending time with old and new friends, the food, the city of San Antonio or something else but one thing is for sure…I will remember this conference!
Next year, Collaborate 20 will be in Las Vegas again on April 19 – 23, 2020.  If you are an Oracle technologist, this is a must attend conference!
Until next time!
Alfredo