Collaborate 2017 Recap
Well another Collaborate conference has come and gone.  I cannot even believe how fast it went!  This year marked my 3rd year at Collaborate.  Initially as an attendee registered under IOUG but a few weeks before the conference I was asked by OAUG to present my session from last summer's Apps Tech virtual conference.  I was more than happy to help and very excited to be presenting again!
My goals of the conference were:
Attend as many E-Business Suite, Cloud, Big Data, and personal development sessions as possible
Inspire some new folks, through my presentation, to extend E-Business Suite using Oracle APEX
Find additional speakers and sponsors for the Chicago Oracle Users Group (COUG)
Network with old and new friends.
Here's how my week unfolded….
Sunday – Arrival Day
I arrived on Sunday morning and my first stop was check-in at the Luxor.  After that I was off to the Mandalay Bay Convention Center for the conference.  The check-in process was as smooth as it has been the previous 2 years. With badge in hand I was off and running.
I attended a few sessions before I was off to one of the coolest things happening on Sunday which was OAUG's Geo Land.  This was a fantastic room where each of the OAUG geographical users groups had a small table that you could visit and play some carnival games for prizes.  What a neat way to make users aware of all the geographical groups available to them.
We need one of these on the IOUG side (hint hint).  🙂
After that I went to the OAUG member's meeting where I was happy to see my coworker Janet Dahmen accept the award for Geo of the Year, for the North Central Applications Users Group.  What a great accomplishment and rightfully awarded (in my biased opinion).  I'm so proud that this group is in my neck of the woods.  🙂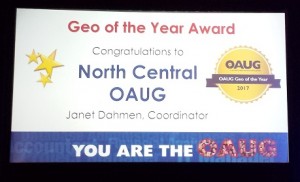 Next stop was the IOUG welcome reception sponsored by Accenture.  They had some delicious food and craft beers on tap!  Best of all this was my first opportunity to say hello to a lot of folks.  I got to meet some new people that I've only known virtually like Alex Zabella and then ran into some of the ODTUG folks, Danny Bryant and Opal Alapat.
After that we ended the night with a stop at The Foundation Room (with some breathtaking views) followed by a stop at the Eyecandy sound lounge.  It was a long day as I had gotten an early start so I was off to bed shortly after that.
Monday
I started off the day early attending the keynote with Jenn Lim on Delivering Happiness.  A very inspirational talk on creating happiness in the work place as well as your everyday life.  I too want a cool title like Chief Happiness Officer.  From there I started my back to back sessions until the end of the day.
Later on in the evening I went to my second Oracle ACE dinner.  I met and spoke to a bunch of new folks which is always a real treat.  There were finally some new ACE promotion announcements which was very exciting!  Opal Alapat to Oracle ACE, Erik Benner and Rob Lockard to ACE Director.  Congratulations to these fine folks…so well deserved!
Tuesday
I had another early start beginning with the keynote by Glenn Finch from IBM on How Blockchain, Quantum Computing and Cognitive Will Impact Your World.  I'm still trying to wrap my head around everything that Glenn talked about but it was an awesome keynote.  Then it was off to another full day of back to back sessions.  In the afternoon I gave my presentation on Turbocharge your E-Business Suite Development with Oracle Application Express!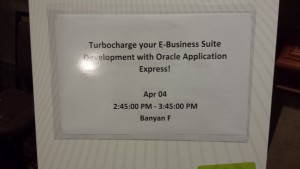 I thought the session went well and we had a pretty full room with about 35 people.  I finished with about 15 minutes to spare that we ended up consuming on some really great questions that I'm going to spin into some future blog posts.  I'm so ecstatic that there is so much interest in extending EBS with APEX!  Like last year, I hope that the end result is I end up influencing a few people to actually implement this at their companies.  Remember…it cost you nothing to do this other than time (APEX is free)!

After that I was off to the exhibitor hall to peruse the many vendor booths.  I ran into my coworker Janet where I introduced her to as many folks as possible so that we can make them aware of NCOAUG Training Days next year.  While I was there Janet snapped a pic of me drinking a Firestone DBA beer (how could I not drink this?).
After the exhibitor hall Janet and I headed over to the House of Blues where we had registered for the free receiption that a few vendors were having.  They had a smorgasbord of food and drink, and a live band.  We met up with Opal and Yalim Gerger   A short while later we were joined by Danny, Bobby Curtis, Tony Jambu, John King, and Vince Tran.  What a pleasure it was talking with everyone!
Wednesday
Another super busy day trying to pack in as many sessions as possible.  I will say the lunches were pretty good every day of the conference and naturally the desserts never left me disappointed.  Okay there was one exception, the vegan tiramisu…"che schifo!" as we would say in Italian.  🙂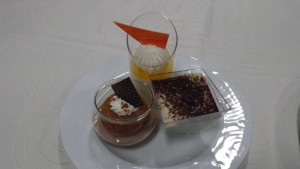 Later on in the evening was the finale party with it's Bohemian Nights theme. Let's see, good food, good drinks (they had an absinthe bar!), an awesome band, and some fortune tellers!  You really can't ask for much more!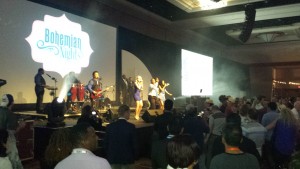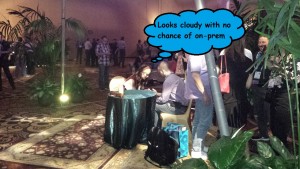 After the finale party I met up with Opal, Stewart Bryson and Natalie Delemar at the Mizuya lounge in Mandalay Bay that had the band The Limit playing.  These guys were awesome!  They play any song you request (cash tip gets you to the top of pile).  I gave them one of my favorite songs and also one that is not easy…Led Zeppelin's The Ocean.  They played this song flawlessly!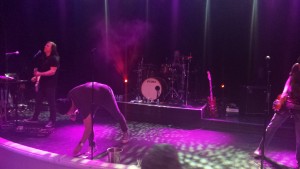 Afterwards, we went to the Mandalay Bay LIGHT nightclub where the fine folks from interRel had a table reserved.  We ran into the IOUG staff while we were there and we all had a great time talking, having a few more cocktails, and dancing.  I had a blast getting to know everyone better but exhaustion hit like a brick wall before I knew it.  I was off to bed to get some sleep so I could get up for an early flight.
Thursday – Departure
No time for sessions today.  Woke up, packed, and went straight to the airport to catch my flight.
Summary
While I was tired by the end of the week, I feel that all my goals for attending Collaborate were all met.  I have a lot of notes from sessions I attended that I need to look into over the next few weeks.  I landed a few vendors to sponsor our COUG meetings as well as some new speakers.  I also met so many new people and I hope to see them at future conferences.
Bravo to OAUG, IOUG, Quest and Meeting Expectations (the management company) for an awesome, engaging, and fun conference!
In the event that you found my blog post so inspiring that you now HAVE to attend Collaborate.  The date and location is already set…Las Vegas again April 22 – 26, 2018.
Until the next time!
Alfredo
"Note to self: Make sure to take more pictures next time especially those with friends!"  🙁