We kicked off 2017 with an awesome Chicago Oracle Users Group meeting on February 23rd. We had excellent presentations by Moizuddin Mohamed and Oracle Ace Director, Jim Czuprynski!
Moizuddin was our COUG "Show and Tell" and provided us with a presentation on GoldenGate High Availability Using DBFS in an Exadata/RAC environment. He demonstrated a use case where he has a DBFS instance at a primary site but uses GoldenGate to replicate the DBFS instance to a disaster recovery site as well.  Giving the ability to easily start the instance at either site for both planned and unplanned outages with minimal downtime.  Very Cool!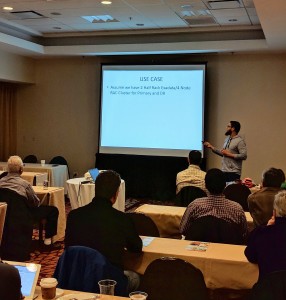 Jim's first presentation was titled DBA 2.0 Is Dead. Long Live DBA 3.0!. A very timely topic of the current and future role of the DBA.  Jim covered the following key areas:
Cloud: Caveat Nuba Emptor
Predictive Analytics: So If You See My Downeaster, Alexa
Security: 2017 – Year of the Levee (Lest Darkness Fall)
Data vs. Belief: Will Booleanists Trump Post-Truthiness?
Career Forecast: Outsourcing, Meet Insourcing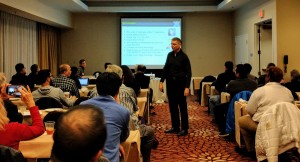 Jim's second presentation was titled Stop Guessing, Start Analyzing: New Analytic View Features in Oracle Database 12cR2. He reveiwed and provided some useful examples on the CREATE ATTRIBUTE DIMENSION, CREATE HIERARCHY and CREATE ANALYTIC VIEW features. Be sure to download his presentation so you can see for yourself and for more detailed information take a look at the Oracle 12cR2 documentation.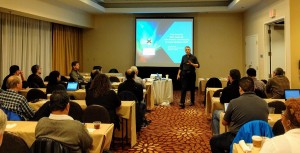 I brought my son with me as he was curious to what goes on at these meetings.  I introduced him to a few folks and he helped himself to more cookies than I was able to keep track of.  He eventually found himself a comfortable spot right outside the meeting room where he was more focused on drawing then all the technobabble that was going on in the room.  On the drive home he told me what he enjoyed most was seeing the short introduction presentation, that he always sees me putting together, on the big screen.  🙂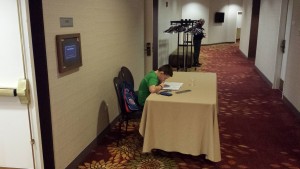 Our meeting was sponsored by OnX Enterprise Solutions and they provided for us a really nice venue with a delicious dinner. They also had three $50 Amazon gift cards that we raffled away to three lucky winners. Thank you OnX!
All three presentations are available for download on the COUG Web Site in our members section.
If you haven't already, make sure to sign up as a COUG member (free!).