Our recent Chicago Oracle Users Group meeting on August 8th marked our third meeting of 2017.  We had not one but two Oracle ACE Directors!  Nitin Vengurlekar and Richard Niemiec brought us a total of five feature packed presentations!
Agenda
The day went by very quickly.  The location of the meeting was the Prairie Center for the Arts in Schaumburg.  This was our first meeting at this location and we used the lecture hall.  I loved this space as it had good acoustics and plenty of seating.  We did something special and live streamed the sessions with the help of ProHuddle.  We started off the first presentations with some technical difficulties (apologies to the folks on that session) but we quickly resolved our issue after determining we had a bad 1/4″ patch cable.  Luckily the DBA in me had brought redundant everything (MICs, cables, etc) so we just a did quick hot swap of the cable and we were good to go from that moment on.  🙂
Presentations
We had a knowledge packed day that consisted of five presentations! We won't go into detail of each of these presentations but let me tell you there was so much information to be consumed on this day!
Understanding 12cR2 Grid Infrastructure, RAC, and ASM/ACFS
Oracle 12cR2 Multi-Tenant Options
Taking advantage of Oracle 12cR2
Oracle Cloud Structure on 12c Release 2
Basics of Bare Metal Cloud Service Offering
Our meeting was sponsored by Viscosity.  The venue they chose rocked and the Lou Malnati's pizza we had was delicious!  Thank you Viscosity!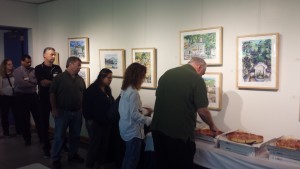 Rich was generous enough to hand out signed copies of his Oracle 11g Release 2 Performance Tuning book for folks as they were coming in.  For our raffle, Viscosity also had a copy of Rich's newest book, Oracle Database 12c Release 2 Performance Tuning Tips & Techniques.  Thank you Rich!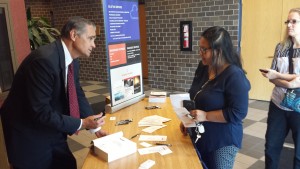 The presentations are available for download on the COUG Web Site in our member's section.
If you haven't already, make sure to sign up as a COUG member (free!).  This will allow you to not only receive our emails about future meetings but also download past presentations.